02/05/2012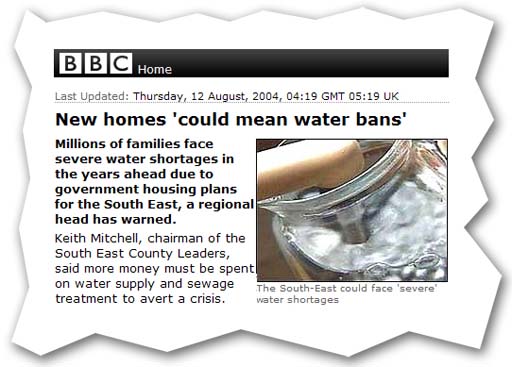 Some 17,395,000,000 litres or nearly four billion gallons of water a day (1,411 billion gallons a year)
go in
to the UK mains water supply. As back-up, there is a capacity to store about 520 billion gallons in above-ground reservoirs, representing about 36 percent of the annual supply.
Currently, that is enough capacity to supply water for four months if there was no rainfall at all, and groundwater and river abstraction was to stop completely for that period. Experience demonstrates that this is not enough.
However, no-one but a
congenital Tory Boy
would raise the issue of "building loads more reservoirs that we will only need once every 100 years". That is not on the cards.
On the other hand, it is entirely reasonable to work on the basis of a 25 year cycle, which is the industry standard for assessment – and a legal requirement under the Water Act 2003. And to deal with this, and the increase in population, plus "security of supply in the face of climate change", in 2004 new reservoirs were very much on the agenda.
Potential shortages had been well-flagged, and even this was leaving it rather late – the following year, there was a
major drought
in the southeast, when we were getting exactly the same headlines as we are now.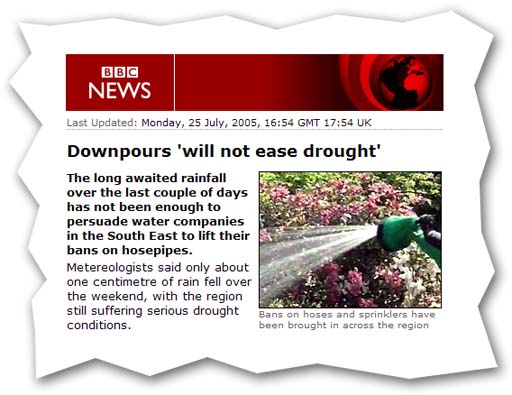 Thus, by July 2007, the trade journal
Global water intelligence
was reporting
that there were 666 reservoirs in the UK "and rising". To overcome the perennial problem of water shortages, five major new reservoir projects had been thought necessary, plus three large extensions to existing reservoirs. This was not an academic project. Outline plans had been
set out
in the water companies' 25-year water resources plans prepared in 2004.
One of those planned was the Abingdon reservoir, and the fate of that has
already been recorded
. Another had been announced in September 2003 – the
Clay Hill reservoir
near Canterbury in Kent, to be built at a cost of £100m. And it was to be joined by a huge reservoir at Broad Oak, near Folkestone. Both, however,
have been deferred
, one to 2020 and the other to 2023.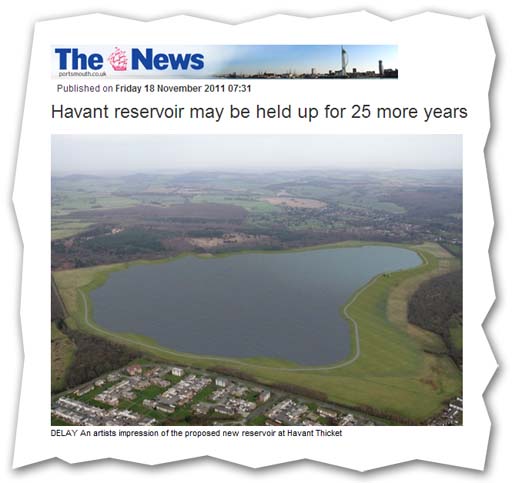 Yet another was Havant Thicket, a £36m project between Havant and Rowlands Castle, near Portsmouth. But, in
November 2011
, it was announced that this was to be deferred for 25 years, after the government told Portsmouth Water to go back to the drawing board in devising its Water Resources Management Plan.
Of the five in the planning stage in 2004, that left the Lower Severn reservoir, in the Severn Trent Water area. And there has been no progress here either:
in 2010
, this was still under discussion, with no construction plans having been made public.
Thus, none of the five reservoirs deemed essential in 2004 – all in the south of England – have seen the light of day. And neither have the three reservoir extensions, although one, the Abberton Reservoir enhancement, in Essex, is due to come on-stream in 2014. That aside, in the twenty years
since 1992
, the only new major public water supply reservoir, owned by a water company, to become operational is Severn Trent Water's Carsington reservoir.
There is absolutely no question that the lack of building has been government-inspired. Each time a water company has got its plans to a working stage, they have been rejected by government planning inspectors, with the obvious approval of ministers, right up to and including Caroline Spelman.
Despite this, there has been no specific declaration by successive governments, opposing the building of reservoirs. Simply, with just one exception, it has not happened – the climate nannies are pursuing instead a policy of reduced water consumption, in line with its more general climate change mitigation strategy.
And now we are reaping the predictable and predicted effects.
COMMENT: "WHELK STALL" THREAD