2012-11-16 15:24:09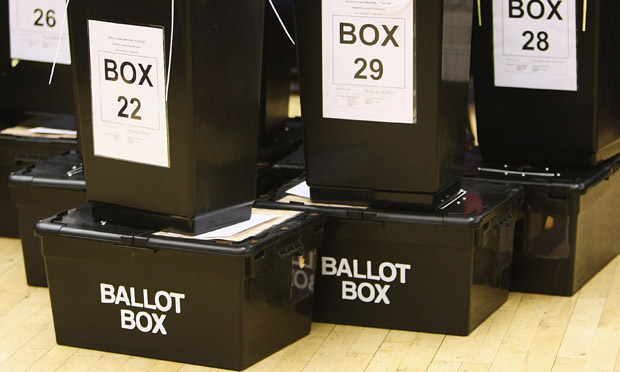 When the first result of the £100 million PCC extravaganza came in, it recorded a "win" for Conservative Angus Macpherson in
Wiltshire
on a 15.8 percent turnout. Even then, it was decided on second preference votes. As to the turnout, only 81,477 of a total electorate of 514,854 voted. With 35,319 votes going to Macpherson, ahead of Labour's Clare Moody who took 21,157 votes, that gives the lead candidate an electoral "mandate" of 6.86 percent from the electorate.
In some Wiltshire districts, the turnout dropped as low as 10.95 percent (Trowbridge) and 10.41 percent (Devizes), the cumulative result making this the lowest peacetime turnout on record in any British election – so far – beating the 23 percent in the 1999 European elections. The BBC has said that around 2,800 votes were spoilt, or just over three percent of the votes cast.
The second result was
Dyfed-Powys
– in Wales, one was led to believe. The result was regarded as a gain for the Conservatives, giving Christopher Salmon the post, on 32,887 votes – a first count percentage of 50.86 percent. Labour's Christine Gwyther came close with 31,773 votes (49.14 percent). An electorate of 394,784 and 64,660 votes give a turnout of 16.38 percent. Salmon walks into a £100,000+ job with an electoral "mandate" of 8.3 percent.
In the third result, Vera Baird won
Northumbria
in an election that had 178,807 votes cast, delivering a 16.45 percent turnout. The former MP for Redcar took 56 percent with 100,170 votes. Conservative candidate Phil Bulter took 45,845 votes, UKIP's Alistair Baxter took third place with 18,876 votes while the Lib-Dims scraped into fourth with 13,916. Baird gets her job with an electoral "mandate" of 9.2 percent.
Merseyside
, at number four, got Labour's Jane Kennedy, taking 70,884 votes (56.18 percent of the 126,171 votes cast) from an electorate of 1,016, 579. The overall turnout is 12.41 percent and Kennedy's "mandate" is a dismal 6.97 percent. UKIP comes fifth on 6.9 percent, after the Lib-Dims who take 7.29 percent.
Ron Hogg (Lab) got a mandate of 7.43 percent in
Durham
, Julia Mulligan (C) gets 7.71 percent in
North Yorkshire
, and
South Yorkshire
gets Shaun Wright (Lab) with a mandate of 7.46. Here, the English Democrats come second, with 15.56 percent of the votes cast, and UKIP came fourth, after the Conservatives.
And so it went on. Alan Renwick, an elections expert at the University of Reading, thinks that the evidence shows that people were deliberately spoiling their ballot papers as a protest in the PCC elections. You don't say! In Wiltshire, 3.3 percent of those who voted spoilt their ballots. In Dwfed-Powys, 4.3 percent did so. According to the BBC, the number of spoilt ballot papers in Coventry was larger than the number of Lib Dem votes.
This makes
the comments
of Home Secretary Theresa May rather inappropriate. Yesterday, she was telling us that the commissioners will take the "voice of the people" to forces across the country. But it now transpires that, if the "people" do have a voice, the vast majority have chosen not to use it or have delivered a "foxtrot oscar".
Nor does the pain stop there. In the Manchester Central by-election, Lucy Powell held the seat for Labour with 11,507 votes on a turnout of 18.16 percent, the lowest in a parliamentary by-election since the second world war. Conservative candidate Matthew Sephton lost his deposit after taking just 754 votes.
With 89,519 registered voters, however, that gives Powell a seat in Parliament with a "mandate" from 12.9 percent of the electorate. That is actually worse than the dismal performance of
Seema Malhotra
in last year's Feltham and Heston by-election, where she gained a "mandate" from 15.7 percent of the electorate.
Even then we were talking about a collapse of politics, which makes these results absolutely dire. And they are mirrored in the Cardiff South and Penarth by-election, the second of three held yesterday. Stephen Doughty won the seat for Labour with 9,193 votes, a turnout of 25.65 percent, representing a "mandate" of 12.2 percent from an electorate of 75,175.
Corby was won by Andy Sawford for Labour with 17,267 votes on a turnout of 44.8 percent, giving him a mandate of 21.73 percent . Thus, the best result of the day, in turns of turnout, could only give the winning candidate one in five of the 79,468-strong electorate.
For the PCC vote, the Electoral Reform Society was predicting a final turnout of just 18.5 percent nationally in the PCC vote, but this was optimistic. Turnout was confirmed in Coventry at just 10.54 percent, 12.9 percent in Merseyside, 13 percent in Essex, 13.3 percent in Thames Valley, and 13.5 percent in Greater Manchester. These figures included spoilt ballot papers. In Gwent, where turnout was 14.3 percent overall, one polling station in Newport had no voters at all.
Inevitably, the politicians will try to make light of this, but I remember the heart-searching in 1999 when the European elections delivered 23 percent turnout. But at least it has prompted an investigation by the Electoral Commission.
It says
that the number of votes cast is a "concern for everyone who cares about democracy" and plans to report the findings of its review to Parliament early next year. This is just as well. Any which way you cut this, politics is in crisis. The people have lost confidence in what little democracy they have been allowed..
However, as
The Boiling Frog
indicates, the politicians are terribly slow on the uptake. Says Lucy Powell, on winning the Manchester seat with 12.9 percent of the electorate voting for her: "I am absolutely thrilled. It is a really emphatic vote for Labour. That is a clear endorsement of Labour and a major rejection of the Tory-LibDem government".
When the tumbrils roll, she will be so surprised - and we'll be greasing the axles later today as we make our way to Leamington Spa, positioning for the next round of the Harrogate Agenda.
UPDATE:
Interestingly, the UKIP "promise"
has not materialised
– but then it never does. In Manchester, they took 4.5 percent of the vote, against 9.4 percent for the Lib-Dims (who came second), while in Cardiff they polled 6.1 percent, coming fifth, well below the Lib-Dims who took 10.8 percent, coming third.
On this and later showing, they may be challenging the Lib-Dims for third place in some areas but not becoming a credible threat to the Tories. There is no risk of UKIP pushing for aggregate second place. Overall, the polls tend to say one thing (or some of them do), but in real life UKIP never seems to be able to deliver quite what they say they will.
That much applied to Corby where great things were expected. Andy Sawford (Lab) got 17,267 (48.41 percent), Christine Emmett (C) got 9,476 (26.57 percent) Margot Parker (UKIP) 5,108 (14.32 percent) and Jill Hope (Lib-Dim) 1,770 (5 percent, losing its deposit) .
COMMENT THREAD