10/06/2013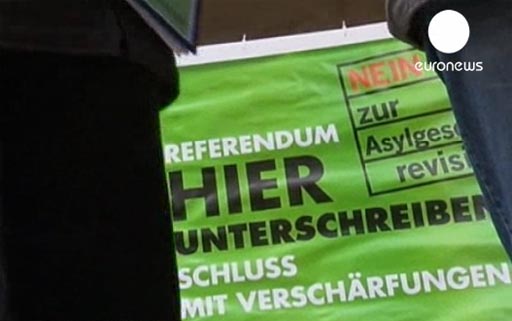 With the exception of a brief mention in the
Daily Mail
, as part of a story about Romanian immigration, the British media seems to have decided to ignore yesterday's Swiss referendum on tougher asylum rules.
This we flagged up
on 1 June
and the results are now being
widely reported
, in the
German media
and
elsewhere
- everywhere except the British press.
As it stands, the Swiss people
have approved
a toughening up of the law, with 78.4 percent of those who voted accepting the proposition. This a regarded as a "sharp defeat" for NGOs and political left who have said it the new rules are too restrictive, and have been campaigning hard against "exclusion and xenophobia".
Despite that, the changes are fairly modest. As well as stripping benefit rights from asylum-seekers convicted of criminal behaviour, they remove from the grounds on which asylum can be claimed, refusal of military service.
Asylum seekers will also have to present themselves at the Swiss border instead of, as at present, being able to request asylum from Swiss embassies in other countries. There is also provision for national centres for processing asylum-seekers, as well as for sites housing those considered to be troublemakers.
Asylum-seeking has been on the increase since 1999, since the Kosovo war, but as numbers have increased, the majority of applicants are coming from from Eritrea, Nigeria, Tunisia, Serbia and Afghanistan. More than 28,000 applications were recorded last year, a record since 2002, and the total awaiting processing stands at about 48,000.
However, it has to be said that the issue has not sparked a string debate and the turnout is recorded at a mere 38.9 percent, giving a mandate for the proposition of only about 30 percent. One assumes that the non-voters were content to see the widely expected positive result to prevail. The most recent poll in late May showed 57 percent in favour of tougher asylum rules.
Given the concern expressed about immigration throughout Europe, though, the Swiss result is a startling demonstration of people power, and contrasts sharply with the apparent inability of EU member state governments to determine their own immigration policies.
One might have thought, therefore, that the British – supposedly eurosceptic – media might want to highlight an example if what happens when people are free to make their own rules. But, in this case, even the BBC – which did
recently highlight
tightened controls on EU migrants to Switzerland – has been silent.
In fact,
the BBC
and
others
are devoting their resources to retailing complaints about "new visa rules" which, says the All-Party Parliamentary Group on Migration in a new report, are "tearing British families apart".
The Labour MP
Virendra Sharma
, who was born in India, said: "The Government has set the bar for family migration too high, in pursuit of lower net migration levels. These new rules are keeping hard-working, ordinary families apart. I, and others like me, would not have been able to come to the UK to join my family if these rules had been in place then. Today we are calling on the Government to think again".
This is the MP for Southall, where
immigrant camps
are being set up in abject squalor, and Mr Sharma thinks that rules that would have kept him and many like him out of the country are a bad thing?
Nevertheless, the report's findings were also welcomed by the Migrants' Rights Network, giving Ruth Grove-White, its policy director, a platform to emote about foreigners being excluded from the UK. But of settled people's rights, on the basis of the Swiss model, comment there is none.
COMMENT THREAD